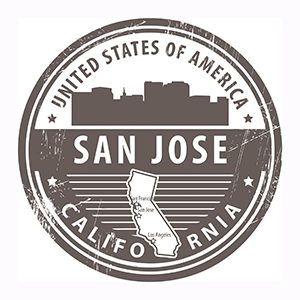 San Jose, California is the third-largest city by population in the state, boasting more than 1 million residents. It's also the largest city in the Bay Area, including San Francisco, as well as the largest city in Northern California. San Jose serves as the county seat of Santa Clara County.
Today's History Lesson
The city was incorporated by the United States in 1850. Before that the area was inhabited by Spanish settlers from Europe, and before that several Ohlone Native American groups called the area home. San Jose was established as a farming community by the Spanish in 1777, and became the first civil settlement in Alta, California, which later became parts of Arizona, Colorado, Utah, Nevada and Wyoming.
San Jose's Levers of Government
The government of San Jose is a council-manager plan made up of 10 city council members elected by district, and one mayor elected by the city as a whole. Because San Jose is a charter city under California law, it has the power to enact local ordinances that may sometimes conflict with state law.
Come for the Weather. Stay for the Treats.
Like most of California, residents and visitors of San Jose can enjoy the plentiful sun and gorgeous weather almost year-round. Every neighborhood in San Jose has a great selection of restaurants, shops and attractions. San Francisco lies less than 50 miles north, and Santa Cruz is just 32 miles to the south. Local attractions around San Jose include Happy Hollow Park and Zoo, San Jose Museum of Art, the Don Edwards National Wildlife Refuge, and professional sports teams that include the San Jose Earthquakes and the San Jose Sharks.
Schedule Your Free Consultation Now
Learn more about what separates Arthur A. Ferraro Attorney at Law apart from other family law firms in San Jose. With more than 35 years' experience, our skilled team of legal professionals know just what it takes to help you and your loved ones move forward.