Arthur A. Ferraro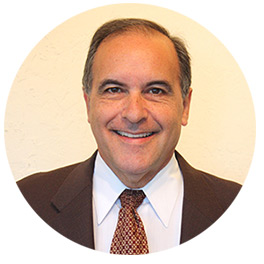 Attorney Arthur A. Ferraro has been representing clients in San Jose and throughout Santa Clara County for more than 30 years. His expansive knowledge and tireless work ethic give him the ability to solve unique and complex problems for his clients in an affordable, personalized and responsive manner. Marital issues, serious personal injuries and contentious litigation are some of the most stressful experiences a person can face. Arthur provides objective counsel to help his clients make the best decisions for their future without sacrificing the aggressive stance needed to protect their rights in court.
Arthur's Philosophy
Arthur built his firm on the belief that a lawyer's first priority should be the unique needs of the client at hand. He prides himself on being conscious of his clients' time and money, and treats each case as if it were his own dime being spent. Arthur cares deeply about each and every client, and he's committed to doing everything in his power to obtain a favorable outcome on your behalf. He will try to help a client settle out of court whenever possible in order to avoid expensive court costs.
Arthur also believes in offering a friendly and approachable environment for his clients. He understands that stress and emotional discomfort are common, and he wants them to feel safe asking questions about their situation. Even so, Arthur Ferraro isn't afraid to take cases to court if that turns out to be the best solution, and he'll stop at nothing to help you and your family move forward.
Education
Santa Clara University School of Law — J.D.
Admissions & Memberships
Admitted to State Bar of California
Admitted to U.S. District Court, Northern District of California
Admitted to U.S. Court of Appeals for the Ninth Circuit
Member, Santa Clara County Bar Association
Past Member, State Bar of California, Family Law Section
Past Member, State Bar of California, Business Law Section
Past Member, State Bar of California, General Practice Section
Past Member, American Bar Association
Past Member, Santa Clara County Bar Association, Family Law Section
Past Member, West San Jose Kiwanis Club
Awards
Distinguished Martindale-Hubbell Peer Review Rating
Community Involvement
Judge Pro Tem, Santa Clara County Superior Court
Instructor in Business Law, Contract Law, Business Ethics — San Jose State University
Arthur A. Ferraro Attorney at Law has been helping San Jose families overcome contentious family law issues for over 35 years. If you are currently struggling with a matter involving divorce, child custody and/or child support, dial (408) 985-1060 to get started.